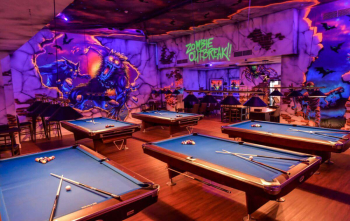 If you're a fan of cue sports and are looking for a place to enjoy a friendly game or engage in some serious competition, look no further than Chilly Shot Billiards & Top Snooker Club in Abu Dhabi, UAE. With its state-of-the-art facilities, welcoming and thrilling spooky atmosphere, and passionate community, Chilly Shot Club is the ultimate destination for billiards and snooker enthusiasts in the region and the new place to hangout with friends.
A World-Class Facility: 
Step into Chilly Shot Billiards Club, and you'll be greeted by a modern and well-designed space dedicated to the art of cue sports. The club boasts a range of high-quality billiards and snooker tables, each meticulously maintained to ensure an excellent playing experience. Whether you're a seasoned player or just starting, you'll find a table that suits your skill level.
Variety of Games: 
Chilly Shot Billiards Club offers a diverse selection of cue sports games, catering to players of all levels and preferences. From traditional eight-ball and nine-ball pool to the strategic and precise game of snooker, you'll find a game that suits your style. Whether you prefer a fast-paced and competitive match or a leisurely game with friends, Chilly Shot Club has you covered.
 Professional Coaching:  
If you're looking to enhance your skills or learn the intricacies of billiards or snooker, Chilly Shot Club offers professional coaching services. Experienced instructors are available to provide personalized guidance, helping you improve your technique, develop strategies, and elevate your game to the next level. Whether you're a beginner or an advanced player, the coaching programs at Chilly Shot Club can benefit players of all skill levels.
Community and Tournaments: 
Chilly Shot Club has cultivated a vibrant and welcoming community of cue sports enthusiasts. Joining the club means connecting with like-minded individuals who share your passion for the game. Participate in friendly matches, engage in practice sessions, or even take part in thrilling tournaments that test your skills against the best players in the region. The club's organized events and leagues ensure that there's always an opportunity to compete and showcase your abilities. 
Refreshments and Ambience: 
Chilly Shot Club understands the importance of creating a comfortable and enjoyable environment for players. The club features a cozy lounge cafe area where you can have refreshments, including snaks and beverages in between games, socialize with fellow players, and catch up on the latest cue sports news, ensuring that you stay energized throughout your visit.
Conclusion: 
Chilly Shot Billiards & Snooker Club in Abu Dhabi is a haven for cue sports enthusiasts. With its top-notch facilities, variety of games, professional coaching, and vibrant community, it offers an exceptional experience for players of all levels. Whether you're a seasoned player or a beginner looking to explore the world of cue sports, Chilly Shot Club is the perfect destination to indulge your passion and have a great time. Visit Chilly Shot Club today and discover the thrill of billiards and Horror Snooker Club in Abu Dhabi!